The future of over 200 million great Nigerians depends on a better Nigeria achievable through the democratic installation of capable, ethical, determined and experienced leaders. 2027 will bring about a new wave of elections in Nigeria of which the highest potential citizens must be ready to win the battle, take over the baton and lead painstakingly.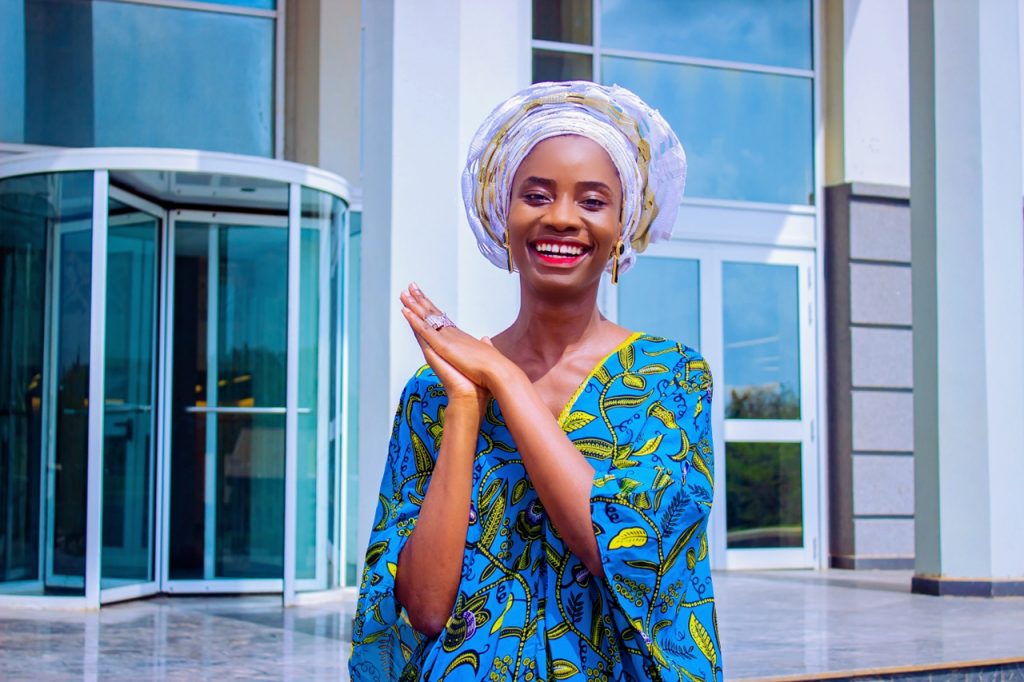 2020 ignited the passion of millions of Nigerians to change the status quo in the country through key achievable goals:
1. Minimize corruption
2. Ensure free and fair elections
3. Develop altruistic and progressive policies and
4. Very importantly, END SARS and related atrocities. We must.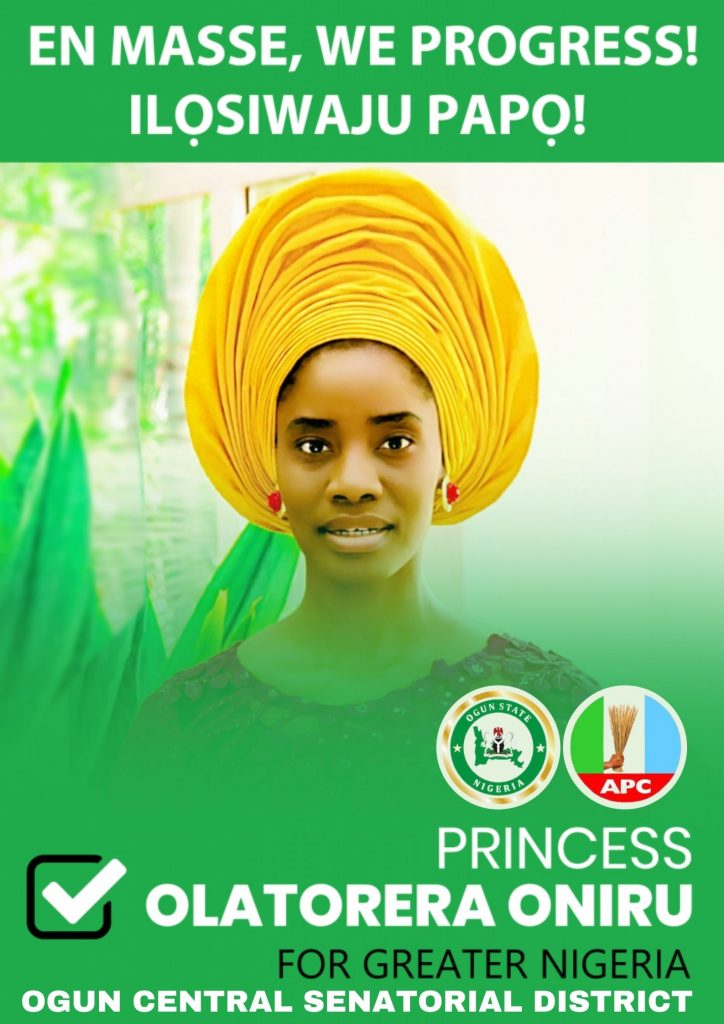 "A yẹ fun ifẹ ati ọwọ, A yẹ awọn eniyan ti o dara ni ayika wa. A tun yẹ eniyan rere ni ijọba. O tó àkókò fún mi láti ṣe iṣẹ́ ìsìn." -Olatorera Majekodunmi Oniru, Ọ.M.Ọ OGUN
Register Your Support For Oniru For NASS Here: Campaign Register
Every registered supporter gets unlimited access to Princess Olatorera Oniru's Bestselling Push Your Dreams Motivational eBook.
Princess Olatorera Majekodunmi-Oniru is currently amidst campaign development towards a National Elective Position in the National Assembly of the Federal Republic of Nigeria. The next federal elections will hold in Quarter 1 of year 2023. Representation of women and of young people in elected government positions in Nigeria is alarmingly very few. This must change in 2023 and beyond.
In 2019, out of 109 elected Nigerian Senators, 0 (0%) were under the age of 41. Out of 469 elected officials into Nigeria's National Assembly, only 4% (18/469) are women (2019). The largest percentage ever of women members in Nigeria's National Assembly over the past 2 decades has been 7% and the lowest 3%.
According to a paper presented by Mrs Oloyede Oluyemi of the National Bureau of Statistics in Nigeria, Nigerian women are significantly underrepresented in government and the importance of more women representation cannot be over emphasized.
In the paper, Oluyemi elaborated that "Politically, women have been relegated to the background, despite the tremendous effort put forward by government and non- governmental organizations following the declaration made at the fourth World Conference on women in Beijing, which advocated 30% affirmative action and National Gender Policy (NGP) recommendation of 35% affirmative action for a more inclusive representation of women both in elective and appointive positions."
Therefore, relevant stakeholders are advised to advocate for the protection of women from abuse, empower them economically and politically and review the necessary legislations to accommodate the growing interest of women in politics both elective and appointive positions."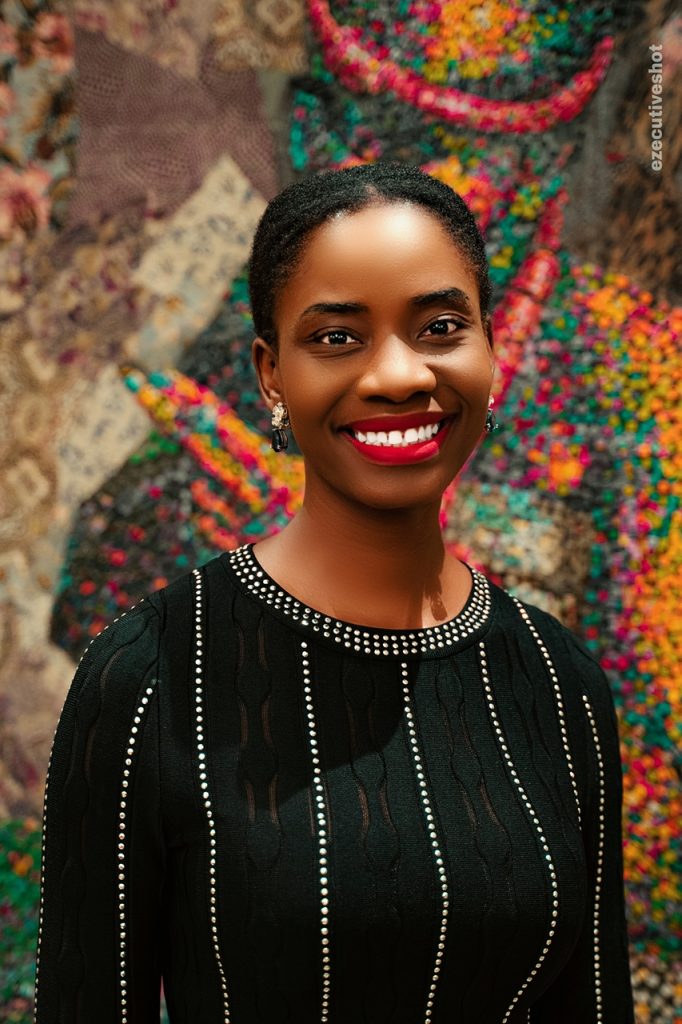 OLATORERA ONIRU'S KEY FOCUS:
Progressive Civil Service Checks and Balances
Agricultural Advancement
Mass Education & Poverty Alleviation
Fair & Altruistic Policies
Citizens First, Enhanced Livelihoods, Happy Nation.
OLATORERA ONIRU'S PLEDGE:
Be a strong voice for the majority of Nigerian citizens in enacting progressive laws, alleviating poverty and ensuring a fairer standard of living for all.
Be a resolute advocate for Justice, Humanistic Leadership, Africa's Unity and Africa's Continental Free Trade.
Be a strong representation for women and young leaders in government.
Foster means to develop Nigeria into the world's safest and most enjoyable country for business and tourism.
ILOSIWAJU PAPO TODAJU – GREATEST PROGRESS ACHIEVABLE TOGETHER
OLATORERA ONIRU'S LEADERSHIP HISTORY:
Women & Power Program, Harvard University John F Kennedy School of Government
Keynote Speaker & Advisor, Intrepid Entrepreneurs
Board Member, SAYA Corporation
Board Member The Palms Institute of Entrepreneurship and Innovation
African Achiever Award
Commonwealth Africa Award
Sheroe of Our Time Recognition, Anita Erskine Media
"Incredible Entrepreneur" & Leader Spotlight, Aisha Babangida First Daughter of Nigeria
Special Advisor, Dr Olayemi Cardoso on Rebuilding Lagos State After End SARS
Sectorial Expert Advisor, Governor Babajide Sanwoolu on Making Lagos State a 21st Century Economy
Founder, Olatorera Consultancy
Keynote Speaker, President Paul Kagame's Youth Connekt Event Kigali, Rwanda
Speaker, Women In Leadership Dubai, UAE
Speaker, Toronto Economic Forum Canada
Speaker, The Economist's Growth Crossings
Speaker, AfricaCom
Speaker, NigeriaCom
Keynote Speaker, Seamless South Africa
Keynote Speaker, High Growth Africa
Judge The Next Titan TV Show
Judge, Streetwize TV Show
Judge, Africa's Young Entrepreneurs TV Show
Achiever of the Year Award, World Leadership Congress Mauritius
Most Influential Young Nigerian, Avance Media
Author, "Push Your Dreams"
Founder, Dressmeoutlet.com. 1m+ subscribers and 50+ employees. Sold in 2021.
Global Consultant & Head of Sales Governance for Lars Magnus Ericsson
Executive Leadership Certificate, Stockholm School of Economics 2012
Executive Leadership Certificate, Institute of Management Development Switzerland 2012
Master of Business Administration (MBA) Degree, Goizueta Business School, Emory University, USA. Vice President of Multi-Cultural Affairs, Continent of Africa Captain, Executive Leadership Council (ELC) Scholarship and National Black Master of Business Administration Association (NBMBAA) Scholarship.
Board Member, Court Appointed Special Advocates New York 2009
Founder, Network of African Professionals in New York (NAPNY)
Senior Analyst, Bank of America Merrill Lynch
Financial Management Program, General Electric Summer 2007
Founder, Top 100 Our Generation & Annual Nigerian Youth Leadership Conference. Established Sweep Lagos Day.
Co-Founder, KK & T Foundation. Established Feed The Hungry Day, Sabo, Ibadan 2006
Miss Abuja, Miss Nigeria in America Beauty Pageant 2006
Cum Laude Honors Bachelor of Science Degree in Business Administration, NC A&T State University. National Scholars Honor Society Founder and President of The Association of African Students. Established the African Dance Group and The Annual African Cultural Night.
Senator, Student Government Association, NC A&T State University.
And many more leadership experiences, philanthropic initiatives, partnerships and awards for Greater Nigeria and United Africa.
The Olatorera Oniru campaign finance committee will receive contributions from golden global progressives. We appreciate your support in helping us strategize, campaign, protect lives against the brutality of elections in Nigeria and maximize all opportunities to make Nigeria greater. We also hope you'll work with us before, during and after the elections for a progressive Nigeria. For further information, please contact Olatorera Oniru's Campaign Finance Committee directly at [email protected]. You may also send ideas for promotional partnerships and campaign events. Please follow Princess Olatorera Oniru on LinkedIn and Instagram.
Thank you for helping us as we endeavor to build the Nigeria-Africa many millions of citizens have dreamt of for decades.
Africa's time is now. Progressive, passionate, knowledgeable and experienced leadership is critical.
Olatorera Oniru's Biography:
Princess Olatorera Oniru is a Development Proponent and Executive Leader passionate about all things Africa. As Chief Executive Officer of Olatorera Consultancy, she currently leads investments, strategic partnerships and advisory services to realize a pinnacle in Africa's history whereby we would rely less on importation and innovate more with natural resources and citizenry capabilities.
With over 16 years of experience in finance, technology, global trade and consulting, she is dedicated towards greater Africa and is incorruptible about increasing the standard of living with no citizen left behind. Olatorera Oniru has a scholarship-based Master of Business Administration (MBA) degree from Emory University's Goizueta Business School and Executive Leadership Certificates from Stockholm School of Economics Sweden and International Institute for Management Development (IMD) Switzerland. She is a 2022 Candidate of Harvard University's John F Kennedy School of Government Women & Power Program.
She gladly serves as Non-Executive Board Leader, Keynote Speaker, TV Judge, Expert Advisor et al to partner companies and institutions. She is most passionate about Africa's Development, Progressive Innovation, Ethical Governance and Happy People.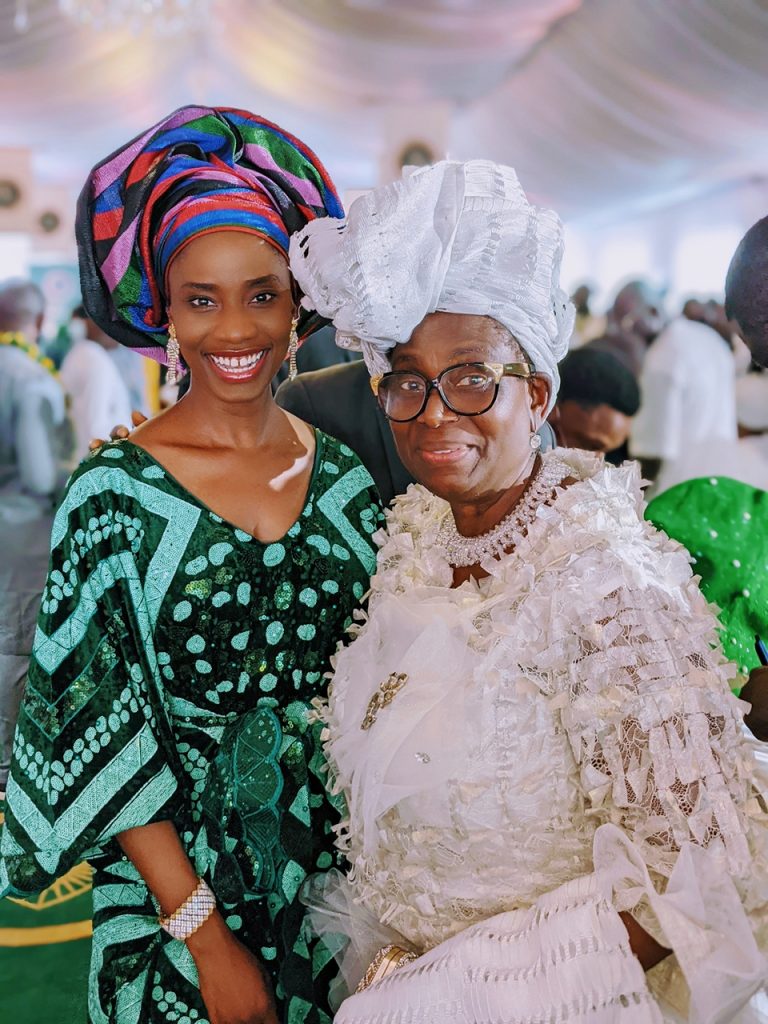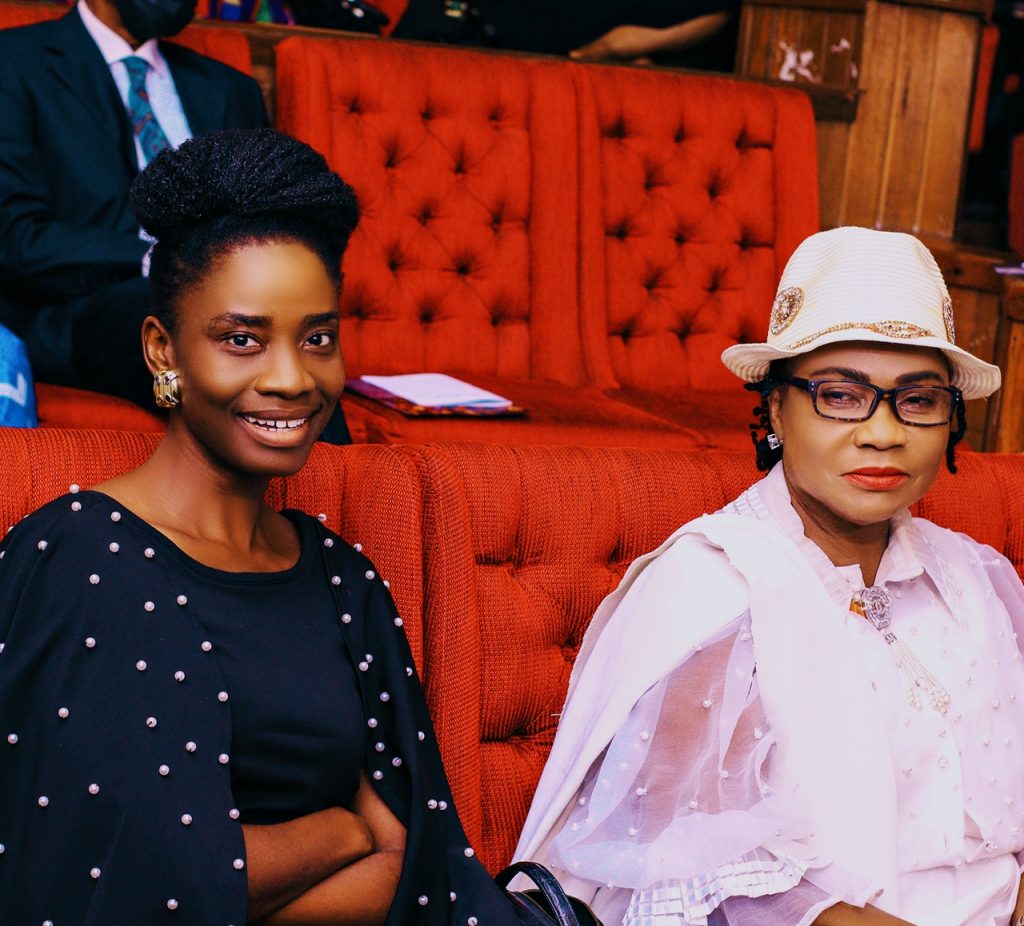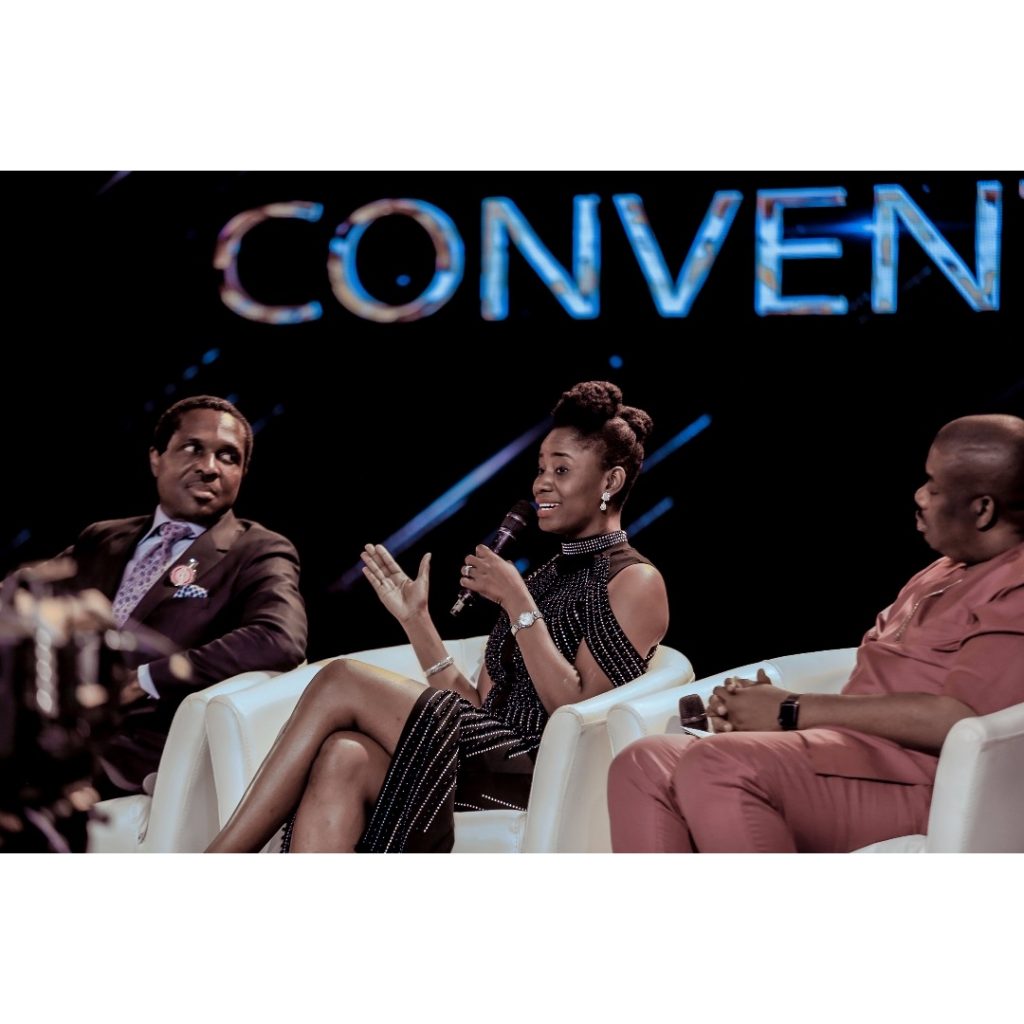 Secure Your PVC (Permanent Voter's Card) and Vote Princess Olatorera Oniru 2023 For National Assembly of Greater Nigeria! #WeMustWin #LeadershipNigeria #GreaterNigeria #IlosiwajuPapo #AseyoriPapo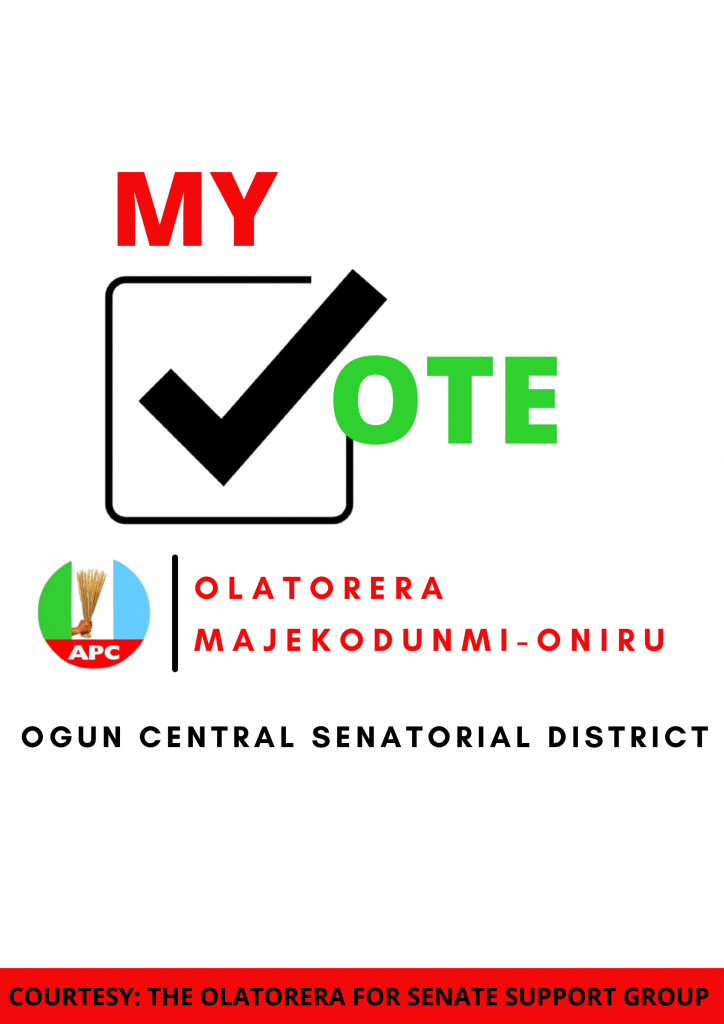 Please bookmark and visit this page often for all campaign updates.
"There is a need for political regeneration in terms of leadership in this nation. Recycling those that have failed because they have money to throw around should no longer be allowed if we want to go forward. This is obstructing people with good intentions to get there. If we do not change our attitude and the system and we continue with the way we are doing things, we will not get anywhere. We need true leaders." -CAN President, Rev. Olasupo Ayokunle