This is the story of a man who narrowly escaped death after spending 19 years on death row for an armed robbery charge that took place in 1988 and was convicted by a military tribunal in Kaduna state in 1995. Thankgod Ebhos who was 54 years old at the time of his lucky release in 2014, watched the execution of four other inmates who were hanged and was told that he was next by prison officials in Benin, Edo state who took him to the gallows and forced him to witness the execution. Luckily for Thankgod, at the time of his own execution in 2013, the prison officials realized that his sentence was to be carried out by firing squad which they were not prepared for.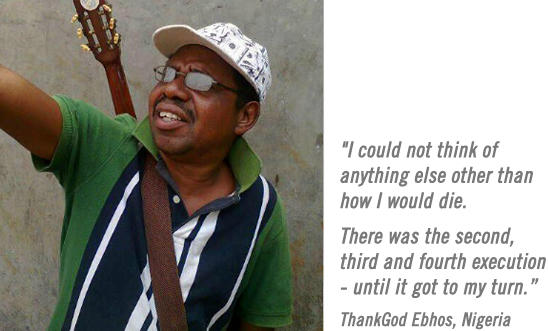 Following the failed execution, some human rights lawyers filed a notice of appeal stating that he had been imprisoned while the country was under a dishonourable military dictatorship under General Sani Abacha, associated with unfair hearings and persecuting confessions from prisoners. A court of the Economic Community of West African States (ECOWAS) in June 2014 upheld its ruling to grant an injunction to restrain the government from executing Thankgod, prompting the then Kaduna state Governor, Ramalan Yero to order his release from death row alongside nine other prisoners in exercise of his power of Prerogative of Mercy and in commemoration of Nigeria's 54th Independence Day celebration. One could say that the ex-death row inmate would appreciate the true meaning of his name through his ordeal and triumph.
This whole event begs the question of if the death penalty in Nigeria is one which should remain or be abolished as too many individuals undeserving of the extreme sentence are losing their lives. However, will the Nigerian criminal justice system still be taken seriously if the death penalty is abolished? With the rising crime rate within the country even with the subsisting death penalty, it may not be wise to abolish the death penalty with the many evil acts being done around the country these days.