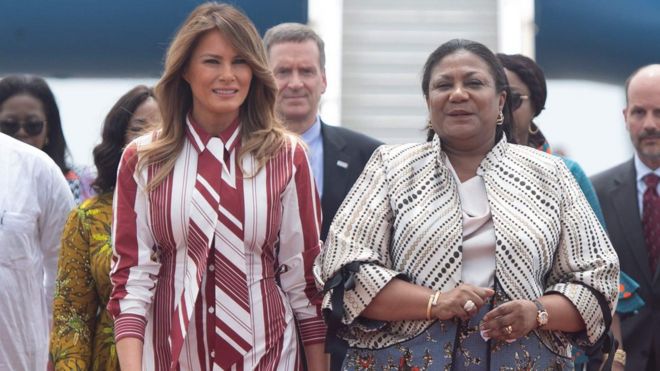 Leaving her husband President Donald Trump and son Barron behind, the U.S. first lady Melania Trump recently embarked on her five-day tour of Africa arriving in Ghana as her first stop, and officially beginning her first major solo international trip since her husband assumed office.
According to the White House, her trip will also cover Malawi, Kenya, and Egypt and is said to focus on maternal and newborn care in hospitals, education for children, the deep culture and history woven into each African country, and how the United States is supporting each country on its journey to self-reliance
However, considering Trump's series of vulgar comments towards Africa, many believe that her five-day trip could be complicated by the actions and words of her husband which may mean that the first lady has some heavy lifting to do. While others believe that Trump's behaviour towards Africa will not affect her visit as the U.S-Africa relationship which has been pre-existing for decades is said to be much bigger than the president's comments. Nevertheless, below are top 3 reasons behind Melania Trump's solo visit to Africa:
A positive outcome from her visit may possibly atone for her husband's negative behaviour towards Africa.
To promote Child welfare which has been the focus of Trump's "Be Best" campaign launched earlier this year.
To emulate the footsteps of other first ladies who have visited the African continent such as; Hillary Clinton, Laura Bush and Michelle Obama who traveled to the continent multiple times.
_______
The Olatorera Consultancy brand has grown from an ambitious solo-preneur to a team of over 15 people highly assertive on providing the seal and stamp of "Africa's Best" to great businesses in Nigeria and beyond. Chief Executive Consultant, Olatorera Oniru is very passionate about seeing businesses succeed and operate optimally. She is also notably passionate about witnessing Africa transformed into one of the world's greatest continents. Olatorera Consultancy has an annual outline of businesses we work with. We currently do not accept unsolicited applications. To network with the team at Olatorera Consultancy Limited, please add your company to the reviews page here. An Olatorera Consultancy company representative may be in touch with you shortly after reviewing your company's readiness for business consultation services.